Compliance Label Wide Format CAB Printer
A compliance label wide format like those for pallets, drums, and chemical packaging have a lot of information and tend to be larger in width than many Thermal Transfer and Direct Thermal printers can handle. CAB label printers provide flexibility in size and how the labels are managed. Labels can be printed for each package, pallet or other container individually or batches of the same label.
Finding a printer and software program that ties together the parts of this process is simple with the CAB thermal printers and the Cablabel® S3 lite software.
CAB has a series of printers and fe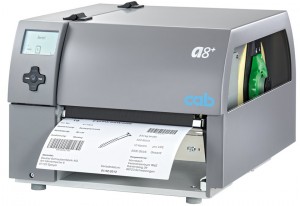 atures 2 models designed to take on compliance labeling and other label challenges found in an industrial environment. Label width (across the core measurement, not the feed directions) is limited by the width of the print head. Most common printers will go up to a 4″ width with variable feed dimensions. The CAB Squix 6.3 and A8+ models are designed to take on the wide format of the label; the Squix 6.3 (6.93″ wide) A8+ (8.5″ at 300 dpi). Productivity is not lost on these models with an impressive speed of up to 250mm (9.84") per second.
Handling the printed label is often left to chance. Make the most of what is available by looking into post print options. Compliance labels are often applied to the container just before or immediately after production. These are also used frequently in the shipping area to meet transportation mandated label requirements. Integrating a CAB label applicator to pick up the labels and apply to your package provides accurate placement and less manpower. If the auto applicator is not needed, the dispensing option will neatly push a label out for the operator to grab and apply while a new label advances. These are just a couple options available on these printers. Placing the printer in the right area of production or packaging provides access to labels just in time. This is possible with the CAB printers