Did you know the FDA is issuing new labeling requirements for food and beverages?
On May 20, 2016 the FDA announced updated nutritional panel information for the majority of food and beverages sold in the US. The final requirements are a result of feedback and analysis of agency research, industry input and available scientific data. Virtually all food and beverage packaging will need to adjust their current labels as a result of the final rule.

Major changes to the current label include:
Highlighting "Calories," "servings per container," and the "Serving size" declarations by increasing the type size and placing the number of calories and the "Serving size" declaration in bold type.
Requiring manufacturers to declare the actual amount, in addition to percent Daily Value, of mandatory vitamins and minerals.
Addition of any "Added Sugars" directly beneath the listing for "Total Sugars"
Changing the footnote to better explain the percent Daily Value.
Food and beverage manufacturers with annual sales of $10 million or more will have until July 26, 2018 to comply. Food and beverage manufacturers with annual sales of less than $10 million will have one additional year to comply.
Are your current labels in compliance?
The new label, as provided by the FDA, is below: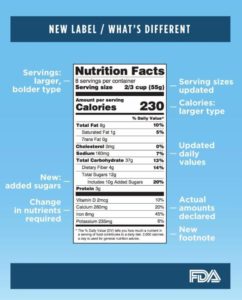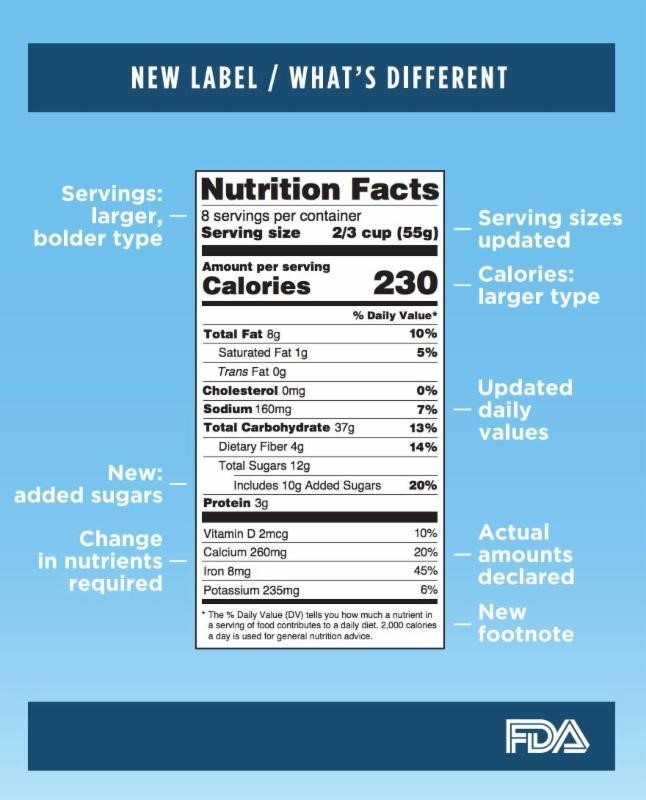 FOR MORE INFORMATION CLICK HERE